Who and why should
attend

?

The CAIO tpo33 is tailor made for every practitioner or organization working with or interested in learning how to maximize the ROI of their AI initiatives and function. The event is created for Chief AI Officers, CxO´s, or senior managers who are leading the AI initiative and strategy in their organization.

Our tpo33 events bring the industry's best and brightest minds and help delegates:

By attending you will learn how to:
Request, download and explore
Find out everything about the
event

– delivered in one simple PDF Agenda.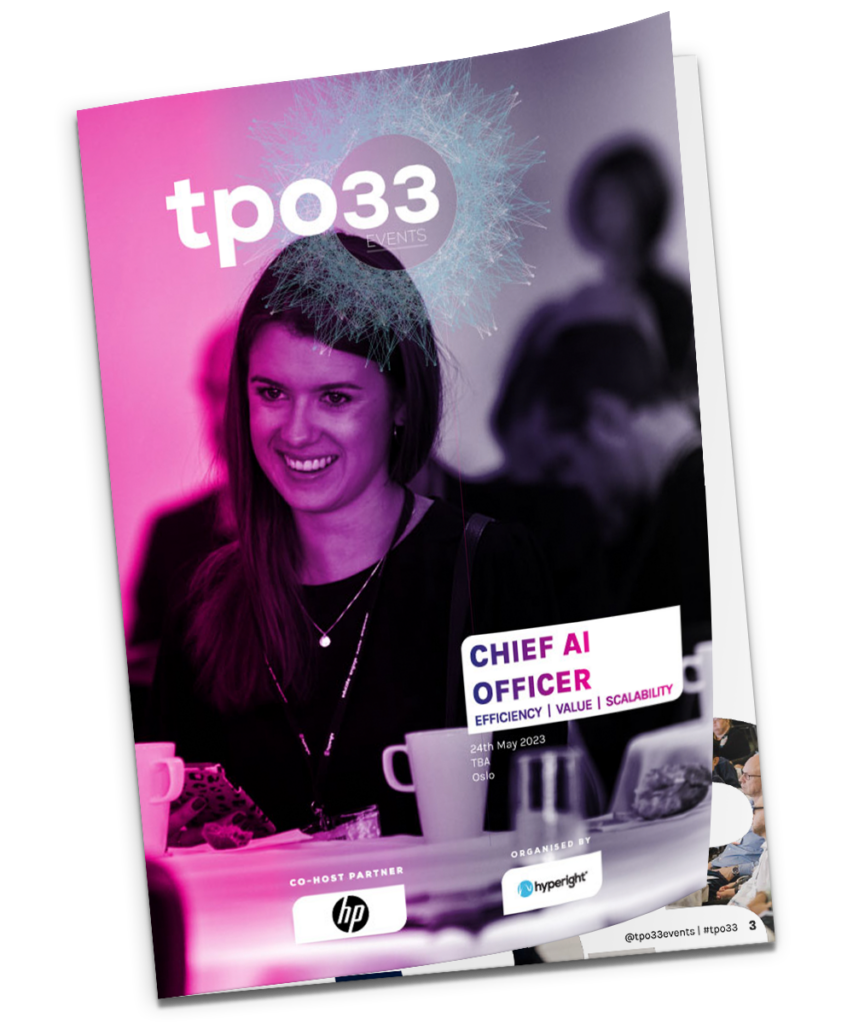 Mattias
Fras
Group Head of AI Hub – Nordea
Mattias has spent 20+ years working with change in enterprise settings, divided between 12 years in management consulting, 4 years as CFO and 8 years driving new tech adoption in Nordea. He has worked on bringing in and scaling up new technologies like software robotics, virtual agents, machine learning / deep learning and natural language processing. Currently he is leading the AI Hub which is a group unit  driving AI strategy, governance, technology enablers, and operating model, as well as supporting the business in utilizing data, leveraging technology, changing culture and establishing a new mindset.
Robert
Luciani
AI & Data Advisor
The AI Framework
Robert is first and foremost a jazz-fusion composer, but with a deep background in formal logic and computer science. He has worked on everything from open-source Unix kernel programming, to architecting enterprise cloud environments at Microsoft, and developing original AI-driven products as an entrepreneur. With nearly two decades of experience in handson development of disruptive technologies in enterprise environments, Robert currently provides executive advisory services through The AI Framework to help others make a successful leap into the future.
Tonia
Sideri
Head of AI and Analytics COE
Novo Nordisk
Leading AI and Analytics Center of Excellence (CoE)@ Novo Nordisk working across the organization to #BringDataToLife with ML/Analytics and our technology platform. Data scientist that converted to management. Years of experience in startup incubators and corporate transformation labs, unlocking the potential of data across industries (Banking, Pharma and Biotech) and business models (B2C, B2B, DNVB) – xDanske Bank digital Lab, xLeo Pharma Innovation Lab, Novozymes' Digital Transformation.
See more
Intro to tpo33 – Program and Proceedings
See more
Roundtable Discussions

• Table 1 – Moderated by TBA

• Table 2 – Moderated by TBA

• Table 3 – Moderated by TBA
See more
Roundtable Discussions

• Table 1 – Moderated by TBA

• Table 2 – Moderated by TBA

• Table 3 – Moderated by TBA
See more
Roundtable Discussions

• Table 1 – Moderated by TBA

• Table 2 – Moderated by TBA

• Table 3 – Moderated by TBA
tpo33 | Chief AI Officer
Register |
Exclusive to 30
Once your application has been processed, our team will send you the confirmation and additional information before the event including instructions on the event tool used as well how to book your topics, roundtables and meetings.
At tpo33 events, interactivity and networking between delegates is key to the successful output for all attending, therefore commitment to attending, roundtable discussions and meetings is mandatory.
Price is 4990 SEK before VAT. The price includes: